About Goa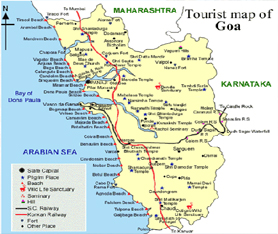 Goa is a tropical paradise that lies on the west coast of India bathed by the warm waters of the Arabian sea. It is unique in many ways but mostly due to its history and geography that have left an indelible mark on its people for generations.
Having been ruled by the colonial Portuguese for over 450yrs ( as compared to the rest of India that was ruled by the British for 250yrs) there is still visible a distinct Portuguese / European flavor that has permeated all aspects of Goa's life including its food, religion, language, festivals, dances and of course names. This becomes apparent as soon as you cross the border to Goa from India or elsewhere.
This unique blend of Indian and Portuguese culture is to a large extent what makes Goa and the "Goan" unique. Also unique is the fact that it is one of the few colonies that India ( an ex- colony itself) liberated in 1961 and this set the stage for reclaiming history.
Today at the dawn of the "age of Information Technology", as Goa enters the new millennium, it has plenty to write about in terms of achievements, some examples being- the highest per capita income in India, the highest per personal savings rate in India, the lowest infant mortality rate in India, one of the highest literacy rate in India and one of the highest standards of living as compared to the rest of India.

Beaches of Goa: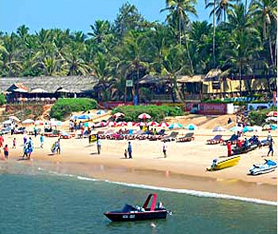 To the average tourist interested in having a good time, " the beaches" is what Goa is all about. It has been widely publicized in the media, movies and adds to the mystique of Goa. This is not without reason because Goa possesses one of the finest stretches of sandy coastline in India .
The tropical climate, the coconut trees, the white sand beaches all have been immortalized in many song and dance sequences of Indian movies and add to the romantic allure of Goa. It is now the No 1 tourist destination of Indians on the move especially the newly weds on their honeymoon and the upwardly mobile Indian gentry.
The beaches have seen some significant commercialization , especially Calangute with hotels of every shape, size and class with shops and restaurants to cater to every taste. There are a few isolated beaches for those in search of peace and tranquility.
In general, the beaches are clustered into two regions, north and south Goa coastlines with the capital Panaji and nearby Miramar beach, and Bambolim beach , in the middle.
The first is the coastline that extends from Fort Aguada and Sinquerim beach areas and goes upwards along the coastline to Chapora beach and fort. The beaches along this stretch of coastline include the following in order
Sinquerim, Candolim, Calangute, Baga, Anjuna, Vagator, Chapora, Morjim, Arambol.
The second is the coastline extending south of Vasco da Gama and Bogmalo beach and going down along the coastline to the southern tip of Goa and ending with Paolem Beach. The beaches along this stretch of the coastline include the following Bogmalo, Velsao, Majorda, Colva, Benaulim, Betul, Canaguinim, Agonda, Palolem, Rajbhag.


Goa Local Transport:
Since Goa is one of the most happening tourist destinations in India. To help tourists explore this place fully and in a considerable amount of time, Goa has all major modes of public transport. The local transportation in Goa suits every pocket and every taste. Right from air conditioned deluxe buses to the auto rickshaws, you can find the kind of public transport that you require according to your budget. There is absolutely no dearth of local transport in Goa and you can find autos and cabs round the clock.
Bus: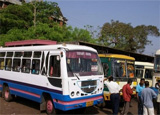 One can always get on a bus that is owned by the state government or even private tour operators to tour Goa. They charge a considerable fee for their services and take you comfortably to all major tourist attractions in Goa. You can pick from the normal buses to the air conditioned deluxe coaches.







Taxi / Cab:

You can also opt for a taxi or a cab in Goa to visit the famous tourist destinations of Goa. You can hire the taxi for an entire day or just from one place to another. Fix the price you are going to pay before you board the taxi. There is also an option of renting a car and driving it yourself around Goa.






Motorcycle Taxi: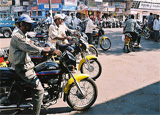 This kind of taxi is unique to Goa. It consists of a man riding a two wheeler and takes you as the pillion rider. This mode of transport is quite swift and takes you even through heavy traffic. It is locally known as "Pilot".








Auto Rickshaw: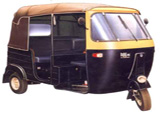 Auto rickshaw is a vehicle that is also known as a three wheeler. There is a seat for a single person i.e. the driver in front and the backseat is wide enough to accommodate 3 - 4 people. Insist on charging by the meter when you board the auto or fix the price beforehand.








Ferries / Boats: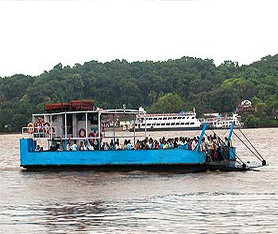 Boats and ferries have been used as a mode of local transport since ancient times. Even today, one can explore some popular tourist places by going on boats and ferries. They charge a nominal rate for their service and leave you with an experience that you won't get anywhere else in India.




A Little Bit of Konkani on Your Tongue:
Konkani is the mother-tongue of Goans - the people of Goa. It is also the state's official language having been recognized as so in 1976 and is also one of the languages recognized in the constitution of India.

The Konkani language is written in both the Roman script and the Devnagri script used for languages such as Hindi and Marathi.

Since Konkani is used everywhere in Goa in day-to-day life, this section is intended to provide you with some basics in the native language of Goa.

The smattering of phrases or words given here will certainly not make you an expert nor is in any way a substitute for any formal language training. But the list of essential Konkani words and phrases given in this section will help you interact with the locals on your trip to Goa.

Konkani is a beautiful language and we hope with this brief introduction you will be motivated to learn more and explore it beyond what is presented here.


| | |
| --- | --- |
| English Numbers | Konkani Translation |
| One | Ek |
| Two | Don |
| Three | Tin |
| Four | Char |
| Five | Panch |
| Six | Sou |
| Seven | Sat |
| Eight | Ath |
| Nine | Nou |
| Ten | Dha |
| Eleven | Ikra |
| Twelve | Bara |
| Thirteen | tera |
| Fourteen | Chouda |
| Fifteen | Pondra |
| Sixteen | Solla |
| Seventeen | Sothra |
| Eighteen | Otthra |
| Nineteen | Ekunnis |
| Twenty | Vis |
| | |
| --- | --- |
| English Words | Konkani Translation |
| Alright/OK | Borem |
| Bad | Borem Num |
| Boy | Cheddo |
| Girl | Cheddum |
| Excuse me | Matxem |
| Fast | Begin |
| Woman | Bail |
| Man | Dadlo |
| Here | Hinga |
| How much | Kitle |
| I/Me | Hanv |
| My/Mine | Mojem |
| You | Tum |
| More | Odik |
| No | Na |
| Reduce it | Todde Kor |
| Slow | Soukas |
| Sorry | Guneaun bogos |
| Stop | Rau |
| Stop here | Hinga rau |
| There | Thinga |
| They | Thim |
| This | Hem |
| Too expensive | Ekdom marog |
| We | Ami |
| What | Kitem |
| When | Kedna |
| Where | Khuim |
| Who | Konn |
| Why | Kiteak |
| Yes | Voi |