Alternative Tourism in Goa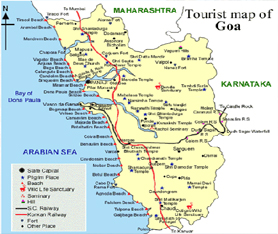 Goa is still one of the most unique places in the world the traveler can visit or live. An old Portuguese colony on the west coast of India, it's long been a refuge of freaks and hippies, a centre for trance parties and raves.
But it's still great. Whether you come during high season to dance at the parties, hang out on the beaches or get stoned during the monsoon, Goa is still one of the coolest places in the world to visit or live.
Tourism is a very big industry today. The diverse tourism types are created from the experiences that tourists want to experience; such are the cases of the nature tourism, cultural tourism, adventure tourism, among others. Each type of tourism is a way to give a denomination to a new market niche for a different experience.
Such is the case of the two big types of tourism: (1) mass tourism, and (2) alternative tourism.
"Mass Tourism" or "Traditional Tourism" generally refers to the big conglomerates or tourist resorts in the world. Where the tourist companies are property of big transnational corporations, where one expects the same type of service and facilities whether in Bali or in New York, and where there is little interaction with the local communities.
On other a counterpart has arisen hence its name "Alternative Tourism", concept that is defined as not being mass tourism. Under the alternative tourism concept we can find a series of classifications and types of tourism. What characterizes the concept of "Alternative" is the existence of small or medium companies, created by families or friends, where there is the possibility of more contact with the communities and where most of the times there is a respect for the environment. This concept is generally used by government institutions and academics, and very rarely a traveller will ask in an information centre for places or activities of alternative tourism.
Some researches have tried to define alternative tourism as a tourism that gives emphasis to the contact and understanding between the hosts and the tourist, as well as the environment. Also as a tourism that is consistent with the natural, social and community values and that allows a positive relationship among locals and tourists . Alternative tourism includes micro and small companies of local inhabitants' property .Other characteristics of alternative tourism are smaller impacts in the natural and social environments, links with other sectors (agriculture, craft) of the local economy and retention of earnings in the region .
The classifications that can be included under the concept of alternative tourism can be Natural, Cultural, Events and Others. The "Natural" (tourism that you can undertake in natural places, about the nature, and/or for the preservation of the natural environment) it includes: adventure tourism, ecotourism, and nature tourism. The "Cultural" (tourism that involves contact and learning about a culture) it includes the archaeological, rural tourism, religious and ethnic. "Events" (tourism interested in experiencing characteristic events of an area or important annual events) that include sports, carnivals and festivals for example. In the classification of other everything enters that you cannot include in the other classifications like volunteering, farm stays, educational tourism, etc.
In relation to Goa, Medical Tourism which is a part of Alternative Tourism has become a important part due to the top end Medical Facilities now available in the State.Besides Medical Tourism other facets of Spiritual and Wellbeing Tourism such as Yoga , Ayurveda , Cosmetic Surgery, Water Theraphy have also started gaining prominence in Goa as a form of Tourism.
Medical Tourism in Goa: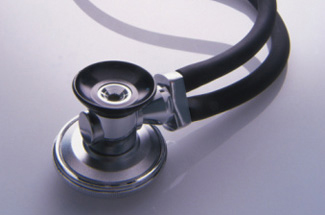 Medical Tourism is a concept where a patient travels to another country for medical treatment in order to save costs, or get treatment faster or even to avail of better medical facilities. Most patients from countries like USA and UK travel to developing countries such as India for treatment because India offers some of te cheapest pricing options of treatment, offers a good holiday, there are no waiting lists or queues to stand in, the doctors are comparable to anyone in the world and finally, language does not pose a problem as most people speak English.
India is also working hard to increase it's infrastructure to better suit the needs of patients coming to India for treatments such as heart surgey, knee replacement, other orthopaedic treatments, cosmetic surgery, eye care, dental treatment or any other treatment for that matter. This is one of the primary fields which India intends to explore during the coming years.
Medical Tourism in India is a fast growing industry and the proposal of a new 1,000-bedded hospital in the capital to cater to visiting foreigners will give it an added fillip.
Health care and tourism seems quite an odd couple, but with the growing needs in the health-care industry coupled with the idea of a holiday after, is irresistible and people are looking towards India both for allopathic and ayurvedic treatments.
Not very long ago, Indians used to travel abroad fro treatments. The tables have turned now and people are looking to India for medical treatment, thanks to trained doctors, latest technology, lower cost of treatment, etc.
India attracts more than a million tourists per year and Goa alone attracts about 2 lakh tourists every year. Therefore, it is an ideal situation for conversion of tourism into medical tourism. Goa has a large number of resorts and hotels, right from 5-star deluxe to the budget hotels which cater to different classes of foreign tourists.
The idea of medical tourism never crossed the Goan mind until the seting up of the Apollo Victor Hospital at Margao which is the first super specialty, multi-specialty, tertiary care hospital in the state. With the advent of this hospital, Goa suddenly woke up to this new concept, which caters to people coming in either for planned treatments or for unplanned treatments.
Goa is an ideal medical tourism destination taking into account its connectivity to many parts of Europe via convenient charger flights and several domestic flights every day from large cities of India.
With the facilities Goa can offer, it could be easily converted into a centre of excellence for Medical Tourism. Add to it, the flavour of Goan hospitality, medical tourism could be made very attractive. We therefore have an excellent opportunity to market health care in Goa, especially to the Britishers who consist of 60 per cent of the total tourists arriving in Goa.
Add to it, the fact that presently in the UK, the queues to avail services from the national health services are very long and private health care costs at least four times more when compared to India. In Britain, the national health services patients have to sometimes wait for six months to a year to avail of treatments like hip replacement, heart surgeries etc. Some who are already in the queue for many months do not survive the waiting period and those who survive end up paying four times more than the Indian equivalent for the same treatment. Keeping all these factors in mind, a planned surgery or a planned treatment could be ideally undertaken in Goa with the bonus of a beach holiday thereafter.

Yoga: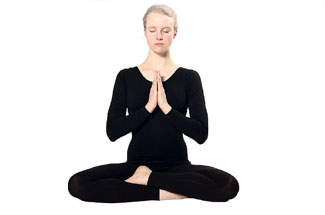 The term
yoga
comes from a Sanskrit word which means yoke or union. Traditionally, yoga is a method joining the individual self with the Divine, Universal Spirit, or Cosmic Consciousness. Physical and mental exercises are designed to help achieve this goal, also called self-transcendence or enlightenment. On the physical level, yoga postures, called asanas, are designed to tone, strengthen, and align the body. These postures are performed to make the spine supple and healthy and to promote blood flow to all the organs, glands, and tissues, keeping all the bodily systems healthy. On the mental level, yoga uses breathing techniques (pranayama) and meditation (dyana) to quiet, clarify, and discipline the mind. However, experts are quick to point out that yoga is not a religion, but a way of living with health and peace of mind as its aims.
Ayurveda: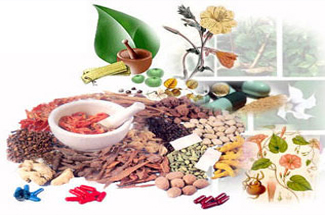 Traditional system of Indian medicine. It is attributed to Dhanvantari, the physician to the gods in Hindu mythology, who received it from Brahma. Its earliest concepts were set out in the portion of the Vedas known as the Atharvaveda (c. 2nd millennium BC). The most important Ayurvedic texts are the Caraka samhita and Susruta samhita (1st – 4th century AD). These texts analyze the human body in terms of earth, water, fire, air, and ether as well as the three bodily humours (wind, bile, and phlegm). To prevent illness, Ayurvedic medicine emphasizes hygiene, exercise, herbal preparations, and yoga. To cure ailments, it relies on herbal medicines, physiotherapy, and diet. Ayurvedic medicine is still a popular form of health care in India, where it is taught in roughly 100 colleges, and it has gained currency in the West as a form of alternative medicine.
Reiki: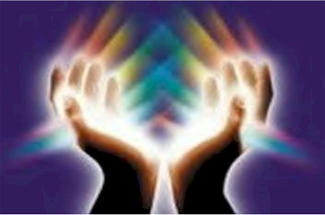 Reiki is a form of therapy that uses simple hands-on, no-touch, and visualization techniques, with the goal of improving the flow of life energy in a person. Reiki (pronounced ray-key) means "universal life energy" in Japanese, and Reiki practitioners are trained to detect and alleviate problems of energy flow on the physical, emotional, and spiritual level. Reiki touch therapy is used in much the same way to achieve similar effects that traditional massage therapy is used—to relieve stress and pain, and to improve the symptoms of various health conditions.
Dental Treatments in Goa: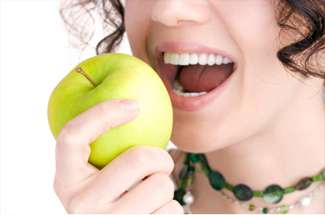 As compared to other parts of the body, we pay the least amount of attention to our teeth till we get alarming signals. After a visit to the Dentist which is always long overdue in any case, we promise ourselves to be more particular in future but once we get busy in our daily activities we forget about it all over again.Due to this careless attitude, we ruin a few teeth. But thanks to our Dental Surgeons and technology, they have devised ways to cure and fix our teeth and restore our smiles. Dental Implants are a blessing in disguise where missing tooth/teeth are replaced so perfectly that no one can ever make out the difference. Implants help preserve facial structure, preventing the bone deterioration which occurs when teeth are missing.
Dental Implants are the most rapidly growing field in dentistry today. Similar to a hip replacement, dental implants are made from surgical grade titanium. This dental implant system is thought by many to be the finest in the world.
The implants are tiny titanium posts, which are inserted into the jawbone where teeth are missing. These metal anchors act as tooth root substitutes. They are then surgically placed into the jaw bone. The bone bonds with the titanium, creating a strong foundation for the artificial teeth. Then Small posts are attached to the implant, which protrude through the gums. These posts provide stable anchors for artificial replacement teeth.
In most cases, the placement of dental implants involves one surgical procedure. First, implants are placed within your jawbone. For 6-12 weeks following surgery, the implants bond with the jawbone. The entire procedure usually takes two to six months. Most patients do not experience any disruption in their daily life.
In India, we can boast highly skilled Dental surgeons at par with the international standards. Which is why a lot of people from the U.K., U.S.A. and Canada are preferring to visit India for their Dental Treatments as they save enormously on cost, get the same quality of treatment and can enjoy a holiday with their families or accompanying person.
Goa with it combination of super specialty hospitals and luxurious hotels, has been touted as an ideal medical tourism destination where ailing foreigners can combine a relaxing holiday with cheap but effective medical treatment.
But the state is seeing a new trend: hitching onto the medico-leisure bandwagon are dentists who are offering their services at a fraction of the price their foreign clients would expect to pay at home
Nature Tourism / Eco Tourism in Goa: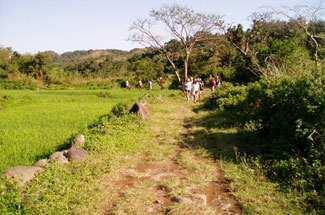 Goa
is a nature lover`s dream destination. Visitors
holidaying in Goa
will take pleasure in the large assortment of water falls, parks, and popular wildlife sanctuaries. Goa is a luxuriant natural bliss bounded on the one side by the foothills of the Sahyadri range and on the other side by the Arabian Sea. Goa is gifted with lakes, waterfalls and springs of matchless exquisiteness. They are situated far from the hustle and bustle, away from the coast, in the interiors. There are three major
waterfalls of Goa
which emerge from great heights and flow through the uneven terrains. These three rippling streams of silvery water draw innumerable tourists who desire idyllic solitude of secluded nature. The Arvalem waterfall of Goa looks stunning with the roaring cascade of water gushing down the rocky topography of the mountain behind it. The
Dudhsagar Falls
is one of the most interesting falls of India and the largest and highest fall of Goa. It is a lucrative tourist haunt. The Kesarval waterfall is another magnificent spectacle for the nature lovers. Lakes in Goa are also a mush visited destination for the tourists. The Corambolin Lake in the east of old Goa is a wonderful place for the lovers of nature. Another place which is an important tourist destination is the
Mayem Lake in Goa.
This is a man made lake in Goa and is surrounded by undulating green hills. It serves as an ideal picnic spot for the tourists.
Wild life in Goa
is an integral part of its tourism. Major portion of the land of Goa is allotted to forests and wildlife. The wildlife sanctuaries in Goa are doing their best to safeguard their flora and fauna. The Bondla wildlife sanctuary is the smallest wildlife reserve in Goa and is a big favourite with school children and people who love nature. The sanctuary houses a botanical garden, a small deer-park, a rose garden, and a zoo, which was in the beginning established to refuge orphaned animals.
The Bhagvan Mahavir Wildlife Sanctuary
is a huge crowd puller and the biggest sanctuary in Goa. It is in true sense a paradise for the bird watchers. The Salim Ali Bird Sanctuary, near Panaji in Goa is a safe haven to the local and migratory birds and a must see for the travellers.
Beach Tourism in Goa: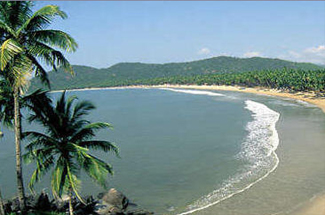 Famous holiday destination of India, Goa is a land of fun florins. Cold breeze, dewy palm leaves and ravishing birds, this is what defines beaches in Goa. The life is diverse here. There is something for everybody here. While the sandy beaches of Goa can be good places to wine and dine around with friends or celebrating a carnival, there are a few beaches with virgin tracks. At beaches of Goa, there is a lot to explore for wildlife eccentrics.
Beaches in Goa are the most vital part of its tourism. These beaches are divided into North Goa and South Goa Beaches. The Candolim beach in north Goa is not too crowded and is a popular hub among the package tourists. Baga is a small fishing beach with an orchard of shady palms close to the water`s periphery. It is flat, safe for swimming and has white sand. The Bambolim beach is a small and clean beach in north Goa. Tourists out here can enjoy good food at the Bambolim Beach Resort restaurant, where cheerful folk music is also heard. There are some beautiful beaches in south Goa as well such as the Palolem beach which is a fishing beach popular for its dolphin cruises and fishing trips. The Agonda is a virgin stretch of beach twelve kilometers from Palolem. The waters are crystal clear and it`s easy to see the underneath the shore while swimming. Among the other popular beaches in Goa are the Colva beach, the Anjuna and the Calangute beach. The numerous palm-fringed sandy beaches are a major tourist attraction in Goa. Ferry rides in Goa are also popular among the leisure tourists.