Pousada Tauma Boutique Hotel, Goa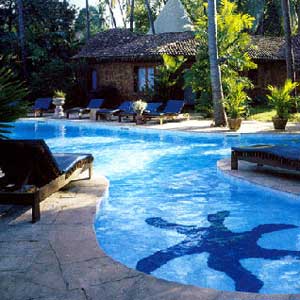 Welcome to a quaint, charming world of its own, a sort of distant paradise. The pool is the focal point - soothing and refreshing and the sound of running water is an elixir which gives the 13 all Suite Luxury Boutique Hotel a tranquility that is beguilingly addictive.
Conceived as the best in Goa adult-experience, The suites, scattered around the pool are endowed with different motifs - the Sea, the Fields, the Mountains and Castle which give one the very aroma of Goa.
But its greatest attraction is the Ayurveda Centre designed to tone up your body, mind and soul. It is the only Boutique Hotel which is built on the lines of a natural, traditional architecture concept using exposed masonry. Eco-friendly and with the minimum use of resources, it uses Goa laterite stones liberally, hence the glow it emits is distinctly Goan. The twittering of birds and a variety of flora and fauna enhance this other-world charm that makes your stay a tryst with nature and a solace for the soul and the best in Goa for your holiday or vacation

Facilities & Amenities :
The Pousada Tauma Hotel Goa, is a small luxury boutique hotel, that is dramatically enhanced by a tropical garden. Moving through it, one experiences a sense of discovery, as buildings and open spaces slowly unfold as one goes along, where the lush planting of cool colours are offset by the brilliant warm, articulated laterite walls.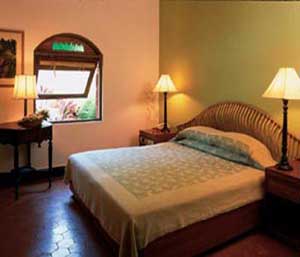 The swimming pool, is free-form, and possibly one of the best in Goa, with features like a bar, broad entrance steps off a pavilion, a wading area, a grotto with a waterfall and a pebbled beach with a little side stream. The pool deck is paved with Dholpur stones which feel cool when moistened and are non-slip.
Around the perimiter is a plethora of hand-crafted wooden-deck beds to relax, sun-bathe, soothed by the theraupetic sound of flowing water. The bottom and sides of the pool are finished in a striking artisticmosaic of "re-cycled broken tiles". The pool complex includes a pool-bar, pool-side pavilion and a water-cascade.
Accommodation :
The 'Sea' rooms evoke the feel of the sea with their shell windows, free-flowing metal forms for grills and furniture, coral and aquamarine colours with marine plants and aquatic motifs in the interiors and floors, which are cast in situ with flowing divisional lines.
Each of the three 'Sea' rooms represents the depths in the ocean structure - beach front, shallow water and deep sea. The rooms are covered with country tiles that also flow freely between the two domes.
Each suite has its also has its own private dining area, bedroom with a dressing table, wardrobe and a patio with a private, detached garden or terrace. Also, Telephones for local and long-distance, facilities, television with satellite transmission channels and a 'minibar' are all included as well.