Goan Culture & Events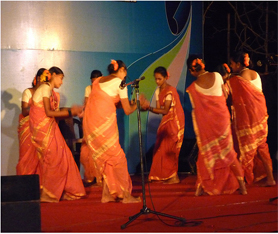 The rich culture of Goa is one of the most distinguishing assets of Goa. The culture of Goa comprises folk songs, lively dances, peppy music, seasoned cuisines and colorful festivals. The culture of Goa is an amalgamation the influence from all the communities that had ever lived in Goa.
Music flows in blood of the people of Goa. Majority of Goans can play guitar or a piano with much ease. Much Goan music is derived from haunting and Portuguese love songs. The traditional dance and music of Goa has blended well with the more modern and chic dance and music of the West. Culture of Goa is reflected from the traditional dances including Fugdi, Dhalo, Kunbi, Dekni, Dhangar, Morulem, Zagor and Lamp Dance.
Goan cuisine has evolved over a period of centuries with influences from various communities. The recipes and the style of cooking have transformed over the years, the basic ingredients remain the same. The staple products of Goan people are the rice, fish and coconut. Almost every Goan recipe will be prepared using these as the main ingredients. The people of Goa are avid seafood eaters and use prawns, lobsters, crabs, and pomfrets to prepare scrumptious soups, salads, pickles, curries and fries. Goan people make liberal use of spices like cumin, chilies, coriander, garlic and turmeric to give aroma and flavor to their food. Besides the Goan cuisine, the most famous drink of Goa is feni. It is a locally brewed drink made from cashew or coconut.
Culture of Goa is showcased in the fairs and festivals of Goa. The calendar of events of Goa is never empty. Shigmo, celebrated in the month of February and March, is celebrated just like Holi. The Feast of Our Lady of Miracles is celebrated 16 days after the Easter. The Feast of the Three Kings at Reis Magos Cuelim and the Feast of St Francis Xavier at Old Goa are held in December every year. The Feast of St. Anthony held in the month of June marks the beginning of monsoon. Bon Carnival, the Mother of All fests, is celebrated all over Goa for three days in the month of February. Food Festival is organized I the month of November where you can taste and savor the authentic local cuisine of Goa for five days.