Scuba Diving Courses in Goa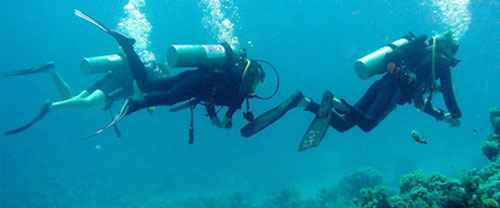 There are Qualified , experienced and multi-national Instructors to conduct different PADI Recreational Dive Training Programs and other scuba diving courses in Goa. Certification is issued by PADI Asia Pacific Australia. (PADI - Professional Association of Diving Instructors, California, USA is the largest diver training organization. Scuba Diving is an equipment extensive activity and enjoying under water environment requires proper training and certification like sailing and skydiving. The PADI system of dive training is based on modules with progressive increase in difficulty.
Experience Program
If you are not sure about whether you would take up recreational Scuba diving, then this is the program for you. This program does not result in any certification. Some part of the training can be credited to your Open Water Certification.
Pre- Requisites - Must be atleast 10 years old
Course details - Equipment familiarization, pool training ( max 6 m depth) - Breathing underwater, regulator clearing, regulator recovery, Mask clearing and Equalization techniques. Two Open water dives to max depth of 12 m.
Why get Certified ? - Certification Level training program allows you to acquire skills necessary for the level of diving activity you would like to under take. This can be compared to international diving license which any dive operator around the world will verify before allowing you to participate in the activity. This license also allows you to get tank fills and purchase dive equipment. The Recreational Diving Program under PADI are listed below.
PADI Certification Level Programs
- Open Water Diver
- Advanced Open Water Diver
- Emergency First Response
- Rescue Diver
- Dive Master