Useful Tips While in Goa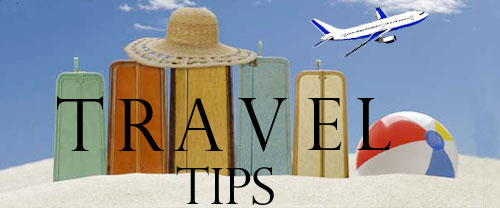 No trip is ever perfect in every way. There are always those little things which remain in your memory long after your trip is over. So we have compiled a list of useful tips which might help in making your trip a lasting memory of a lifetime. These tips are by no means a comprehensive list but they will help you plan your trip before your embark on it and also when you are actually in Goa.

• Although Goa is a pretty safe place as compared to other parts of India it is better to be safe than sorry. Carry your money and travel documents (preferably wrapped in plastic to avoid dampness) in a Money Belt around your waist well hidden from sight.

• The best and the safest way to carry your cash around through traveler's cheques as they are readily exchangeable in most locations. ATM cards are another convenience. You can use them to withdraw cash from a couple of ATMs in the capital city of Panjim.

• The peak season in Goa is between October and January. It is also the time when Goa is most crowded, more festive than any other time of the year. The daytime temperatures are comparatively not too hot and the nights are pleasantly cool. It is also less humid than the rest of the year.

• When in Goa, do not concentrate only on the more famous beaches such as Calangute and Baga. Goa has a number of relatively less crowded beaches which will give you more privacy and even more pleasure. There are also many other interesting places to visit in and around Goa.

• Voltage in Goa is 220 volts ac, 50 cycles. Remember to pack a voltage adapter for your electric appliances. And please check the voltage before using electric shaver or any other electric appliances.

• If you are traveling on the train, don't leave your baggage unattended. You can clip it with a chain attached to the seat to foil most thieves.

• Carry on your person at all times, a small Emergency card preferably laminated or covered in plastic, mentioning your name, age, blood group and other relevant medical details and a contact phone number to contact in case of an emergency.

• On trains and buses, do not accept food items from strangers. These could be used to lull you into deep sleep while the stranger gets away with your valuables.

• Check out the small hotels in a number of tourist spots. They are more likely to provide you with some exotic and authentic Goan cuisine than your starred hotel accommodation. However be careful about drinking water in any such place. Always insist on bottled Mineral Water.

• Cuisine in Goa is not limited to just the Goan variety. In most places you can find everything from Continental, Chinese, Tibetan, Indonesian, Thai, Portuguese and even Mexican dishes on the menu. Prices for these vary from place to place and so does the quality.

• Fresh seafood dishes are probably the safest and tastiest bet in most small restaurants that you will visit.

• Wash hands often with soap and water.

• If you are a foreign national (probably coming for the first time), be warned that you will be quoted some truly exorbitant prices for most things that you ask for, right from household goods to taxi rates etc. And the rates might still seem cheap due to the currency conversion. However always check around with a number of sources for an approximate reasonable price before striking a deal.

• Do not hand out money to beggars, whose tribe in Goa has also increased over the past few years. Be aware that these are full time professionals who have migrated from surrounding states of Goa in search of easy money.

• Please note use, possession and trade of drugs (hard or soft) is totally illegal in Goa. If caught in possession, 10 years rigorous imprisonment in jail and Rs 10,000 in fine is your gift from the Goa Police. There is no bail for any drug offence, or any time off for good behavior; you serve every day of the given sentence.

• Beware of touts at most tourist spots who are ready to provide you with anything and everything at the drop of a hat.

• Keep feet clean and dry, and do not go barefoot to prevent fungal and parasitic infections.
Articles made from rare, endangered hence protected species of animals are banned. Do not attempt to buy these from roadside sellers or even shops.

• The seas in Goa are often rough on certain beaches especially around the monsoons. There are life guards posted at most popular beaches in Goa. Do not venture into the sea before consulting the life-guard.

• Do not keep your valuables unattended during your stay at the beach.

• Nudity on beaches and public places is forbidden and punishable under the law.

• Use repellents and mosquito nets to protect yourself from insects and mosquitoes. Wearing long-sleeved shirts and long pants from dusk through dawn also helps.

• Your money, passport must be kept in a safe place at your hotel reception or on your person. Do not keep them in the custody of undesirable persons. In case of loss of any documents contact the nearest Government of India Tourist Office or the nearest State Government Tourist Office or the nearest Police Station.

• Traffic circulation in Goa is on the left. Keep your valid documents, driving license, passports etc., in your possession while driving. If you are a foreign national you must possess an International Drivers license to be able to drive. Follow Police Traffic rules strictly to avoid any mishaps.

• Do observe silence, due respect and proper decorum inside the places of worship and religious monuments that you might visit. Most importantly, always remove your shoes at the entrance to the main hall of any holy shrine. It is also a good idea to leave a small donation for the upkeep of the building when you leave.

• If you take the bus transport for traveling around Goa be prepared for a rough ride. There are no fixed timetables and frequently no bus stops at even regular stops.

• Always be ready to bargain in most small establishments. As a thumb rule offer 20% of the asking price, and be prepared to pay 35-40% % of the original asked price.

• In case you want to extend your visa, contact the Foreigners Regional Registration Office located in the Police Headquarters at Panaji.

• Shop at Government emporia/handicraft centers for quality products at reasonable prices.
Guides may be hired from Government approved agencies. For verification, you may ask for identity card.

• Tourists carrying cameras/video cameras should check whether photography/video filming is permitted at the tourist spots.

• Contact nearest Govt. of India/State Govt. Tourist Office/Counter/Tourist Police / Tourist Assistance Booth for any tourist information/assistance.

• While at the beach please read sign boards before entering the water and please follow the instructions contained in the signboards. Consult Lifeguard before entering the waters and swim in safe areas only.

• Do not swim in the monsoon. Do not drive any vehicle on the beach. It is prohibited.

• Deposit all waste matter at the nearest dust bin available.

• In case you have to visit the hospital please insist on sterilized/disposable syringes and make sure that the blood is tested before transfusion.

• Pay taxis/auto rickshaws by meter only or by tariff card issued by Directorate of Transport and available with the driver.

• Use Sulabh Shouchalayas (Public Pay Toilets) available at most places of importance.

• Do not encourage beggars.

• Do not accept food/drink from strangers.

• Do not be coerced into shopping by touts/guides/taxi drivers or strangers.

• Do not buy articles made from rare/endangered species of animals as such articles are banned under law.

• Do not smoke in public places/vehicles. Smoking and spitting is banned at all places of public use.

• Do not indulge in permissive sex as you run risk of being afflicted by disease of AIDS. This disease has no cure.

Before You Travel

Most travelers to Goa usually experience nothing worse than upset stomachs during their trip. However it is necessary to take precautions in the form of proper immunizations and vaccinations.

Since some vaccinations require more than one injection and some others cannot be injected together, it is advisable to plan your vaccinations in consultation with your doctor well in advance of your trip. These can be then recorded on an International Health Certificate which is to be carried along with you. Entry into India requires yellow fever vaccinations especially when coming from an infected area.

Other suggested vaccinations include the following:

• Hepatitis A
• Diphtheria & Tetanus
• Meningococcal Meningitis
• Typhoid
• Hepatitis B
• Polio
• Rabies
• Japanese B Encephalitis
• Tuberculosis
• Malaria

Also make sure that you have adequate health insurance before you embark on your trip.

Health Care in Goa

There are pharmacies in all the towns in Goa as also in all the tourist areas. These are always well-stocked selling drugs manufactured in India under license from foreign companies.

Medications can usually be bought over the counter. Most Good hotels also have a doctor on call to take care of most complaints and prescribe medicines. The staff at your hotel is also usually the best source for the name of the nearest recommended doctor. There are also government and private hospitals in most major tourist areas as also a number of private doctors with clinics.

The main, well equipped hospitals are in the cities of Panaji, Mapusa, Margao and Vasco-da-Gama. There are also a number of ambulance services run by private, government and charitable institutions available on call. However if you are unfortunate to have been involved in an accident, the quickest way to get to hospital is by taxi or private car.