Coconut Creek Boutique Hotel, Goa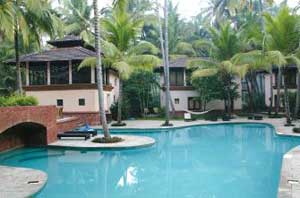 The Coconut Creek Hotel Goa is a haven of beauty and relaxation. Coconut Creek Hotel Goa is located at Bogmalo in South Goa with 20 spacious rooms at a couple of minutes walk from the Bogmalo beach Goa. It is set in 10 blocks on two floors situated 1000 mts. from Bagmalo beach, 3 K.M from airport, 25 K.M from Margao Railway Station & 35 K.M from Panjim Goa.
Coconut Creeek Hotel Goa is a quiet quintessential Goan getaway in the heart of a coconut grove in the small village of Bogmalo. The tall swaying palms stand testimony to its name Coconut Creek Hotel Goa.
Coconut Creek Hotel Goa rooms are designed with beds on a platform that give it a feeling of being at ground level. The flooring had laterite stone. With a niche in each room that has a vase with lcal flora and fauna, the slatted wood, wicker and lattice to let the fresh air in it is nature set right indoors. And a verandah where one can laze around in a beach chair or have that morning cuppa and watch the world go by Goan Style.
At Coconut Creek Hotel Goa one soaks in the lush Goan landscape the picturesque waterways that line the property and a bridge that links one to them. A beautiful three level edifice encompasses the lobby and reception at the first level, the next is the bar that has a lot of elements from Soto Decor Goa, and the topmost is the restaurant area, all of which has that open breezy feel and overlooks the swimming pool. The pool and reception are over looked by tall overhanging coconut trees. The pool has lovely wooden sun loungers.
Coconut Creek Hotel Goa comprises twenty independent, spacious well furnished rooms, housed in ten pavilions which surround the beautiful lagoon shaped pool. The luxurious furnished air conditioned and non air conditioned rooms provide a sense of well being and comfort. Personal sanctuaries to relax, recharges, replenish your energies and enjoy another day.
There are a lot of Kerala elements at Coconut Creek Hotel Goa but it meshes well with the Goan theme. Its been a creation of many compromises when material and design did not meet. But the end result is a beautiful piece of work that has amongst its features a beach close at hand. Its the ultimate hidden getaway amidst Goa's beaches.

Facilities & Amenities :
Hotel Amenities
• Swimming Pool
• Multi Cuisine Restaurant
• Childrens Play Area
• Baby Pool
• Bar
• Travel Desk
• Room Service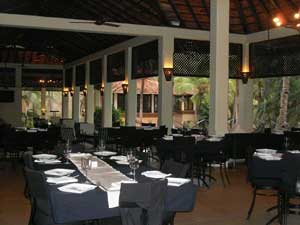 Room Amenities
• Cable TV
Laundry Service
Airconditioned
Telephone
Safe Locker
Balcony
Shower

Accommodation :
• Rooms are twin or double bedded, partly air-conditioned, TV, telephone, Minibar, ceiling fan, hairdryers, tea/coffee making facility, balcony or terrace, bath/shower, WC, hot and cold water.
• Restaurant and Bars - offers Goan, Continental, Indian and Italian cuisine. Pool Bar/Snack Bar serves cocktails, mock tails and snacks.
• Swimming pool with sun beds and umbrellas.
• Games include Pool Table, darts etc., Entertainment like folk dance, live music, etc., are frequent but limited during monsoon.
• Reception offers money exchange, doctor on call, travel assistance, safe deposit lockers and accepts all major credit cards.
• Other facilities include Laundry, room service, library etc.
The Coconut Creek is a haven of beauty and relaxation.
Hidden away in the small village of Bogmalo, but very close to the airport which is great after a long flight. It is nestled in the coconut trees by a creek. You are greeted with a flower garland and immediately begin to relax.
The pool and reception are over looked by tall overhanging coconut trees. The pool has lovely wooden sun loungers.
The rooms are in blocks around the creek. Over a small bridge I was led to my room. air-conditioned and on the ground floor. Cream duvet, Metal Shades, Blinds, Fridge stocked Really tasteful and clean I didn't want to leave a lovely accommodation in a peaceful setting. The staff were friendly and helpful. A real family affair. They made you feel very welcome and took pride in all they did.Excellent food.