GTDC Farmagudi Hill Retreat, Goa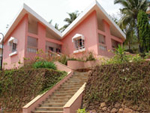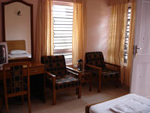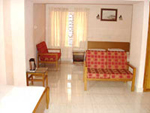 They say with more than 300 ancient temples and shrines in Ponda, surely this area is the abode of the gods. If Ponda is Heaven then Farmagudi is the gateway to Heaven. is at the entrance to Ponda. Farmagudi Residency is a beautifully laid out group of elegant cottages, who would not be out-of place on a Swiss mountain. With its sloping roofs and clean lines with a short decorative flight of steps leading to each cottage, Farmagudi Residency looks beautiful set in a beautiful garden with winding flower edged paths. The Residency has a restaurant in one cottage complete with an outdoors restaurant too. Farmagudi has a large open air hall too for weddings and receptions. This is the perfect place to relax at for those who have come on a religious pilgrimage to the temples of Ponda. Guaranteeing maximum privacy, the cottage accommodation ensures complete peace of mind.
Nearby Places to Farmagudi Hill Retreat, Goa
Drive to Hindu temples around Ponda for a fascinating insight into the distinctive character of the Goan Hindu architecture. Visit the most important temples, Mangueshi Temple, dedicated to lord shiva and the Nagueshi temple in the tiny hamlet of Bandora.
The Mahalsa Narayani temple, just 2kms from Mangueshi, is dedicated to Lord Vishnu's consort Laxmi or according to some, His female form, Mohini.
One of the largest and the most famous of Goa's temples dedicated to Shri Shantadurga (1738), the wife of Lord Shiva also known as the Goddess of Peace, lies just 3kms south west of Ponda Town .
Ponda town has retained its Hindu origins and cultures through the various rampages of history and is said to be the central point of the state.
The Safa Masjid on the national highway, west of town is the largest of Goa's 26 mosques and built by Ibrahim Adi Shah in 1560. It has a simple rectangular chamber on a low plinth, with a pointed pitched roof, very much in the local architectural style, although the cupped arches are distinctly Bijapuri.
Bondla wild life sanctuary is also widely popular amongst the tourist. A small, 8sq. kms sanctuary at the foot of the hills of the Western Ghats has a mini zoo that guarantees sightings of Goa 's wild life in natural surroundings and also offers short elephant rides. The park also has an attractive botanical garden setting and a 2.4km nature trail with water holes, a lake and a tree top observation tower.