Casa Anjuna Boutique Hotel, Goa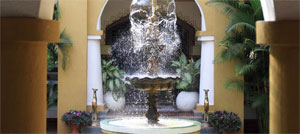 Location & Description: Anjuna conjures up images of beautiful palm fringed beaches, hippy flea markets and a wonderful laid back atmosphere. Casa Anjuna, a converted Portuguese mansion, is revered by Their guests for its tranquility, stylish colonial interiors and location amongst lush tropical gardens. A mere two hundred meter stroll to the beach, this boutique hotel is the ultimate place to stay to experience everything Anjuna has to offer.
Casa Anjuna is set amongst a tropical paradise of lush palms and flowers including the local alpino flower which we have used for Their logo. The beautiful swimming pool is the perfect spot to relax and soak up the sunshine, or cool off after a trip to the famous flea market.
Facilities & Amenities at Casa Anjuna Boutique Resort Goa:
- Spa
- Cable TV in each room
- Minibar in deluxe rooms
- Internet access on request
- Laundry
- Swimming pool
- Taxi and scooter hire
- Sightseeing
Dinning at Casa Anjuna Boutique Resort Goa:
The peaceful and charming atmosphere at Casa Anjuna is the perfect antidote to Their stressful lives. Their discreet staff takes enormous pride in giving you a wonderful holiday. Their experienced chefs are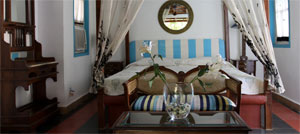 renowned for their spectacular Goan dishes, using the freshest seafood and produce from the local markets. Their rooftop restaurant gives you an incredible panorama from which to enjoy these culinary delights.
Accommodation:
The property has nineteen spacious and luxurious rooms, many have private verandas, and all have four poster beds. The bathrooms are uniquely designed in an affectionate tribute to Anjuna's hippy roots. Each piece of furniture, fabric and art has been hand chosen and collected by the owner.