Casa Britona Boutique Hotel, Goa
A short drive from the historic city of Panjim, the peaceful village of Britona is one of the most beautiful settings in Goa. Converted from a three hundred year old heritage warehouse, Casa Britona was the first property in Goa and remains one of their most special. With only eight rooms and two riverside studios, this unique boutique property faces directly onto the beautiful backwaters of the Mandovi River.
It is easy to see why Casa Britona is regarded by their discerning guests as the most idyllic setting for a Goan adventure or escape.
You can relax on the verandah with its spectacular views of the river and forested hills in the background. You can spend hours by the free form turquoise swimming pool or lounging on the deck which is literally suspended over the riverbank.
Facilities & Amenities at Casa Britona Boutique Resort Goa:
TV room
Laundry
Swimming pool
Taxi hire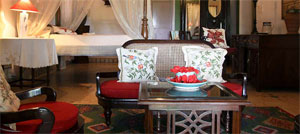 Sightseeing

Dinning at Casa Britona Boutique Resort Goa:
Delicious Goan specialties and international dishes are prepared to order by their experienced chefs and can be enjoyed on the deck or in their riverside pavilion.
Accommodation:
The rooms are designed with an eclectic selection of colonial antique furniture from Goa and Cochin, hand painted walled frescoes and four poster beds draped lavishly in nets and muslins and delicately hand embroidered bed linen.