Casa Susegad Heritage Resort, Goa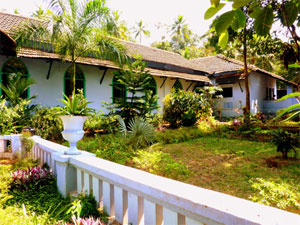 Casa Susegad is a beautiful heritage boutique hotel located in Loutolim South Goa.

The incredible architecture and furnishings of this amazing 400-year old mansion, as well as the warm hospitality of the hosts and staff, make this getaway in beautiful coastal Goa like no other.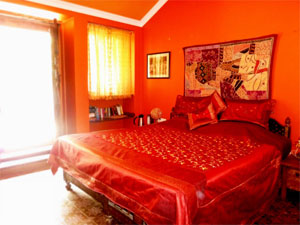 Facilities at at Casa Susegad Goa:
Breakfast & Brunch

Doctor on Call
Accommodation:
Three of the five bedrooms at Casa Susegad are named after semi-precious stones, and the room colours reflect this.
Samples of each stone can be found in decorative floor borders in each room.
The Rose Room (A/C):
Rose quartz is the stone of unconditional love and infinite peace. It brings deep inner healing, is calming, reassuring and excellent for use in trauma or crisis.
Rose quartz draws off negative energy, strengthens empathy and sensitivity and aids the acceptance of necessary change.
The Carnelian Room (A/C):
The gemstone carnelian is a dark orange in colour. Amongst its healing properties it helps to overcome negative conditioning, restoring vitality and stimulating creativity.
Mentally, carnelian improves analytic abilities and clarifies perception.
The Carnelian room can take one extra bed.
The Turquoise Room (A/C):
Turquoise is a most efficient healer and is also used as a protective stone, having been used for amulets since time immemorial.
It instils inner calm, while remaining alert, stabilizes mood swings and is an excellent stone for exhaustion, depression and panic attacks.
The Sunshine Room:
The Sunshine Room is named for its warm, calm and romantic atmosphere.
It is a very large room, open to the rafters, and has no air conditioning, relying instead on the design of the room to keep air flowing freely for comfort all year round.
The Sunshine Room can take 2 extra beds (3 at a pinch).

The Host's Suite:
The large hosts' suite is available by negotiation as part of a whole house let and is also open to the rafter.