Cavala Seaside Boutique Hotel, Goa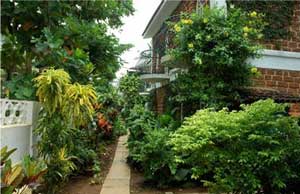 Just a stone's throw from the sands of Baga beach, with green fields and hills as a fitting backdrop, stands Goa's much loved little jewel, Cavala. For over 27 years, this sea side resort has charmed both travelers and locals alike with its blend of old world hospitality, modern comfort, and an ambience that is as addictive as the local brew [Feni] and keeps you coming back for more.
A meeting place for locals and travelers the world over, Cavala is "...where they shared their adventures and good times over a beer on a long table under the almond tree, while some resident enthusiast prepared a paella for one and all."
"...where many a romance sparked off and bloomed..."
"...where all good Lotus Eaters meet and the magic happens..."
And where many still return, even 25 years later, to see old friends and new, to renew and recharge, to relax and chill and to feel that special Cavala magic one more time.

Facilities & Amenities :
Hotel Amenities
• Swimming Pool
• Baby Pool
• Travel Desk
• Room Service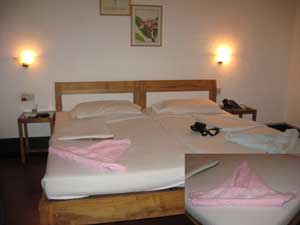 Room Amenities
• Cable TV
• Laundry Service
• Airconditioned
• Safe Locker
• Balcony
• Shower
Accommodation :
Cavala Goa is a cosy seaside 30 room resort with neatly appointed rooms and suites, a fine restaurant and a well stocked bar, with entertainment and barbeques, all making for a truly enjoyable vacation.
Cavala's rooms are comfortable and neatly appointed. Unpretentious and spotlessly clean. Single, Double, Twin bedded, air conditioned or non AC. All rooms have an en suite shower and bath, a refrigerator and a balcony, sitout area or terrace with unobstructed views of the green paddy fields and swaying palms. Some rooms are double sized suites that overlook the resort's twin pools which are surrounded with exotic bamboo and tropical plants.