Gabriel Guest House, Goa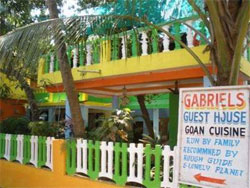 Location: Located Close to Calangute Beach North Goa.
Description:
Gabriel Guest House has been serving guests since 1980. its features amongst one of the best guesthouses in Goa. Its admirable location and the loving family that takes care of the guests has made it a memorable place for them to revisit every year.
The Guest house is located close to the beach, which is just two or three minutes walk . Their Guesthouse is very serene and quiet, surrounded by lush green lawns. They are barely a 5 minute walk to the shopping areas and close to most of the tourist hot spots.
Gabriel
Guest house
provides clean spotless cozy bed rooms with air conditioned and non air conditioned rooms, all rooms are comfortable with special soft mattress beds. Some of their rooms are equipped with cable television, refrigerators, a balcony with an amazing serenity.
Facilities & Amenities at Gabriel Guest House Goa: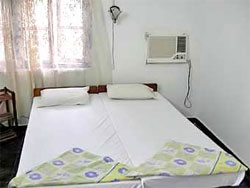 • First aid assistance
• Laundry services
• General safe deposit box
• Luggage storage
• 24hrs assistance Desk
• Hi speed internet facilities
• Currency exchange
• Parking facilities
• 24 hrs taxi on hire
• Swimming pool can be arranged at their neighbors' premises for an additional cost of Rs.100/- per day.
• Some of the above facilities will incur extra charges.
Dinning at Gabriel Guest House Goa:
Gabriels Pub & Restaurant serves Authentic Goan homemade food. Gabriel's Guest House pampers the taste buds of the guests with its scrumptious fares. In its gorgeous on site restaurant it serves an assorted array of vegetarian, non vegetarian and continental dishes. All the dishes at the restaurant of Gabriel's Guest House Goa are prepared with utmost care. They serve you at their delightful open air garden restaurant that boasts of a homely atmosphere and finger licking tasty meal. In fact their superb garnishing simply tickles the taste buds of the guests and tempts them to order more and more.
The restaurant is open for breakfast, lunch and dinner.
Accommodation:
Gabriel's Guest House in Goa features both air conditioned and non air conditioned guestrooms with double bed room facility. All the guestrooms are superbly appointed and are spacious too. These rooms are furnished with stimulating contemporary amenities to make the trip more satisfying for the guests. Rooms come along with amenities like running hot & cold water, telephone, cable TV with remote controller, attached baths and numerous others. With these facilities guest's stay becomes absolutely easy and enjoyable.