GTDC Mapusa Residency Hotel, Goa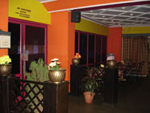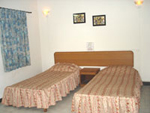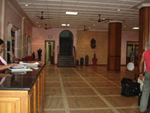 Situated in the heart of Mapusa, conveniently close to major commercial areas, the Mapusa Residency offers 48 spacious rooms both air-conditioned and non-AC rooms. A mini-air-conditioned conference hall caters to anything from birthdays, to exclusive gatherings to conferences. A large air-conditioned hall serves for larger gatherings like weddings. The full-fledged multi-cuisine bar and restaurant Heera is generally packed with hungry diners. It caters to the varied appetites of our visitors. A strong presence of locals is enough proof that the cuisine is delicious. A shopping arcade sells holiday clothes, cosmetics and now Hyderabad's most sought after pearl jewellery. Goa's most popular and colourful Friday Bazaar is barely a minute's walk from this Residency.
Mapusa Residency is located at the heart of Mapusa Town and offers you convenient access to all major commercial areas. More importantly, Mapusa is the hub which can connect you to all the prime beach locations in North Goa with a network of buses and mini-buses plying routes to the most far-flung beaches in the North. The bus terminus is just a short stroll away from the Residency.
Around Mapusa Residency
Visit the St. Jerome Church, also known as the Milagres Church, built in 1674 is sacred to the Christians and the Hindus as well. Bogdeshwar Temple is another must see destination fascinating by day or by night. The Swiss Chapel off St Jerome Road is also interesting to see, a quiet space of peace in a busy, bustling market town. The traditional Mapusa market has silks, textiles, jewellery and handicraft shops along with vendors selling spices, fruits and vegetables. If you want a riot of colour and a whole new experience in sight, sound and smell as a backdrop to the fine art of haggling, then the famed Friday Market of Mapusa is the place for you, where farmers and common folk of Goa come to sell their produce.

Hotel Amenities
- 48 spacious rooms
- large air-conditioned hall
- air-conditioned and non-AC rooms
- full-fledged multi-cuisine bar and restaurant
- mini-air-conditioned conference hall
- shopping arcade