Nature's Nest - Goa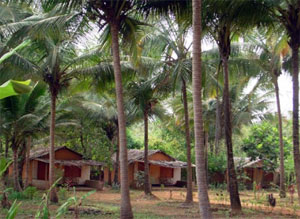 Descritpion: Nature's Nest located on the Border of Bhagwan Mahavir Wildlife Sanctuary. They can be approached from four different routes. The easiest approach road is via Dharbandoda- Sacorda.

Activities provided at Nature's Nest Goa:
- Bird watching
- Nature walks
- Jeep safaris
- Trekking
- Night trails
Facilities provided at Nature's Nest Goa:

Restaurant: Buffet meals are served. Delicious Goan meals are served to lure your taste buds. Mouth-watering local cuisines, sweet dishes will not let you resist the desire of another serving. Their cook will be most obliged to explain you the preparation of each dish.
Room Service: No food is served in the rooms (in order to discourage pests).
Hot Bathing Water: Supplied on demand.
Drinking Water: From the well, filtered and provided. They discourage of pet bottles so as to reduce the non degradable waste.
Library: They have a mini library where you will be able to refer books on nature, wildlife and history.
Accomodation at Nature's Nest Goa: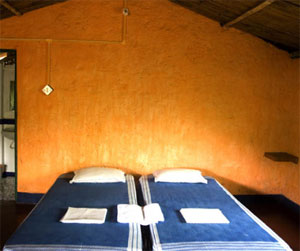 There are a total of 10 cottages placed amidst a perm culture farm in a village locality. A calm river flows by the side of the entire village setup.
The cottages are cosy but spacious. They are constructed by local expert artisans with knowledge filtered over generations. The cottages suit the best to local climate and culture. All this is done keeping in mind your comforts.
Bedroom: The bedroom is very spacious and has the old styled red-oxide flooring; mud-lined walls and a bamboo ceiling.
Varanda: Each cottage a wide mud-dung floored varanda, where you can relax with a cup of spiced tea.
Bathroom: Western styled bathrooms will keep you comfortable while in your privacy.
24 hour water supply is available.
Because of the remoteness of the place, electric supplies may be erratic at times.