Panjim Inn, Goa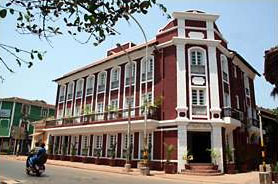 The Panjim Inn has been Part of the Romantic Latin Quarter Pantheon for Many Years and was Amongst the First Big Colonial Mansions of Fontainhas in Panaji Goa. Built in the late 1800's by Francis Assis D'Silveira, a Landed Gentleman and Successful Businessman it has been owned by the Same Family over 5 Generations. The Gilded Pelmets and Wrought Iron Railings which run across the 1st Floor Balcaos and Verandahs Sport the Family Insignia.
The Panjim Inn Goa is an Eco friendly Resort with a solar water heating & rain-water harvesting facility besides energy saving devices being used wherever feasible. In spite of space constraints composting of wet kitchen waste is being done on the premises. So as to reduce plastic waste efforts are on to install solar stills and provide pure water for drinking.
Sitting on Turn of the Century Rosewood Chairs and Tables over a Beer or a Local Feni or Sipping a Juice, one can Observe the Town People go about their Mundane Chores. A Little Imagination - Down Memory Lane to Better Times, to an Old Fashioned World of Chivalry and Noblesse Oblige and You can Envision Youthful Romeos Serenading Comely Damsels from Below the Balcaos or Perhaps almost hear the Wistful Lament of a Portuguese Fado emerge from the Shadows of Twilight.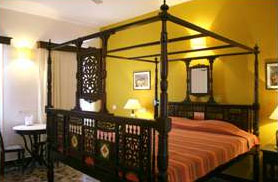 Accommodation at Panjim Inn Goa:
There are 24 Bedrooms, 12 in the old house and another 12 in the Rebuilt section facing Rua de Ourem, with Modern Facilities Including Air-conditioning ,Mini-Fridge, Cable Television and electronic safes in all rooms. Each room is distinctly Individual in Character with Period furniture including Four Poster Beds, Carved Rosewood Almirahs, and Art and antiques being part of the furnishing and décor. An In House Art Gallery make for an Air of Romance and Color.
The Kitchen serves Local and Continental Cuisine on a Romantic 1st Floor Verandah Restaurant Overlooking a Street Junction. Depending on Workload, Guests are Welcome to try their Hand in the Kitchen or Suggest Changes to the Menu. Honeymooners and Families as also single travelers can look forward to a homely stay in an old world setting of Panjim Inn Heritage Resort.