Resort Terra Paraiso , Goa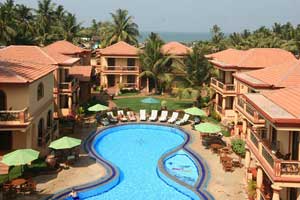 Resort Terra Paraiso Goa a unique boutique Resort that surrounds you with everything you need to make your holiday special. Resort Terra Paraiso Goa, their seaside haven is surrounded by fascinating Goan culture on one side and the blue seas on the other. Holiday at their Resort and they offer you a wide range of options for fine international cuisines, personal attention and warm hospitality, all set in exquisite landscaped gardens.
The Ambience : their boutique Resort reflects the ambience of charming Goan & Portuguese villas. Tropical greenery surround the earthen roof villas and spacious rooms look out over the azure swimming pool. Antique furniture and local handicrafts lend traditional style to the contemporary facilities and all this just a step or two from the surf, sunsets and shopping of Calangute Beach.
The boutique Resort with its unique Goan hospitality warmly welcomes you at its simple yet stylish entrance and lobby.
Facilities & Amenities :

their Resort offers all the world class facilities required to have an enjoyable holiday experience.

• 42 Villa style rooms
• Swimming Pool
• Sunken Bar in the pool
• 'Blue Bistro' Bar & Restaurant
• Travel Assistance
• Laundry Service
• Money Exchange Facility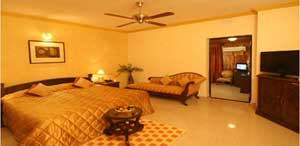 Amenities in the rooms:

• Air-conditioned
• Telephone/ Intercom
• Mini Bar (chargeable)
• Satellite Television
• Tea/Coffee Maker (on request)
• Hair Dryer (on request)
• Round the clock hot & cold water
• Standing shower in A/C Premium rooms
• Bathtub in A/C Deluxe Rooms
• Jacuzzi in Superior Deluxe Rooms
• Private Balcony
• Room Service

Accommodation :
If you want to experience the uniqueness of Goa … stay with us! they offer you the Goan experience as soon as you enter the Resort … an amazing terracotta heaven they call 'Goa.' The entire Resort with its authentic Goan-Portuguese styled villas offers a degree of privacy and calm not available elsewhere.
their facilities are constantly maintained and they keep a high standard of cleanliness consistent with good Resorts internationally. their Resort has 42 villa styled rooms that fall under three categories:
A/C Premium Rooms - 13 Nos.
A/C Deluxe Rooms -17 Nos
A/C Super Deluxe Rooms -11 Nos
Suite Room - 01 No.
The rooms are resplendent with antique furniture unique to Goa with bell styled doors and windows and antique lay back chairs for relaxing on the private balconies. All the Superior Deluxe rooms are pool facing while the Premium and Deluxe Rooms face the other side. The Suite Room is special with a living room attached to the bedroom.