Siolim House Heritage Hotel, Goa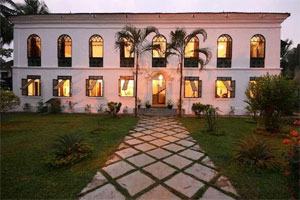 Siolim House Goa is a Heritage Boutique Hotel that is two hundred and seventy five years of history. At one time the house belonged to a governor of Macau from an aristocraic family, and still has the porcelain china grills that the senhor brought from the east. Later on other members of the family were administrators in Portuguese Mozambique, which is where its other name 'Mosmimcar', 'The Mozambican', comes from. The house was bought by its present owners in 1996 and the first renovation completed in 1999. The aim was to bring the Palacio back into use, and its 22 rooms were convered into only 7 large suite accomodation, all with en suite facilities named after trading ports of the 17th century (the century in which Siolim House was built), including one two roomed apartment (all with ensuite facilities) sleeping a total of 16. They have their own masseur, fantastic home cooked meals and most things that that would mae you feel comfortable.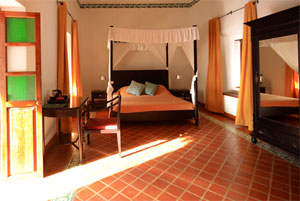 Facilities at at Siolim House Goa:
• Telephone, email, free broadband wireless LAN
• TV/Games/X-Box/Play Station room with a fully equipped Libraryfor books and movies
• A car with driver, and Honda scooters are available on hire.
• Home-style cuisine, using the best local produce, prepared by their goan chefs
• All rooms with en-suite facilities, showers, some rooms air-conditioned
• Yoga classes off site
• Ayurvedic treatments from in house trained masseur/masseuse
• Baby sitting
• Their own RIB boat for crusies on the river or ocean or for water sports
• 12.5 m lap pool with children's area
• Cycles for use at liberty
• Walk and excursions to discover the area on request
Accommodation:
Siolim House Goa has seven bedrooms (including two suites) named after trading ports/areas of the 18th century mostly along the Konkan coast where Goa is located, during the time Siolim House was at its prime. Each room or suite has attached tastefully designed large bathrooms. There is a large garden with bursting bougainvillea bushes and fragrant trees and a pergola in what they call the "secret garden", a fully equipped kitchen, an inner pillared courtyard with a mosaic fountain and a part that even has a stepwell that provides water for the house. There are several large halls, and an 12.5 meter overflow swimming pool.