Whispering Palms Beach Resort Goa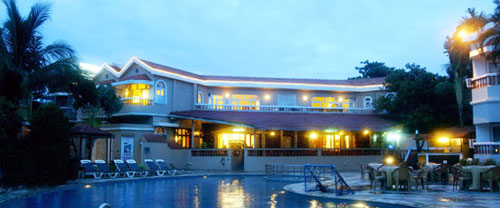 Whispering Palms Beach Resort, Goa, a boutique beach resort, is located on the foothills of Aguada besides a tiny Goan hamlet at Candolim. Built in Portuguese style, Whispering Palms Beach Resort, Goa, is also an all-inclusive hotel that is surrounded by flowering gardens and poolside itself is draped in a splash of colorful flowers.

The resort is situated 250 m. from the beach, Candolim village, which has a modest selection of local stores and eateries, is at a distance of 500 m. If you want to travel further, Panaji, the capital of Goa, is 15 Kms. away. The nearby Baga, Calangute, Vagator and Anjuna beaches are easily accessible by taxi.

Recreation and Services available at Whispering Palms Beach Resort Goa:
- Spa Villa - Jacuzzi
- Beauty Salon
- State of the Art Gymnasium
- Pool (Outdoor)
- Pool (Central )
- Yoga & Meditation Center (Chargeable with prior appointments)
- Fortune Tarot Card Reader (Chargeable with prior appointments)
- Water polo
- Activity zone with indoor games table tennis, pool table, board games etc
- Daytime events programmed run by their hotel Activity team
- Daily Evening Entertainment like Live Bands, Orchestra, Fire Eater, Folk Dancers, African Dancers to name a few
- A library with a huge collection of best sellers
Outdoor Activities (Weather Permitting)
- Beach Cricket
- Beach Football and Volleyball
- Bicycles on Hire
- Water Sports (Chargeable with prior appointments) like Jet skiing, Banana Rides, Para Sailing, Windsurfing, Dolphin Ride, Water Skiing and Fishing Trips.

Dining Features :
Sun & Palms: Sun & Palms the main multi cuisine patio restaurant overlooking the swimming pool makes up for a truly alfresco dining experience. The cuisine ranges from Continental, Indian, Chinese and tauly Goan. Open for Breakfast, Lunch and Dinner.

Crossroads: This laid back air conditioned pub serves both straight and exotic cocktails. With soft music in the background and comfortable seating makes Crossroads a rendezvous for one and all throughout the day. Should the mood demand the pub converts itself to a full-fledged nightspot with latest pulsating music and polished parquet dance floor. Open daily from 10 am until whenever.
Lanai: A poolside eatery it offers a choice of light meals, snacks and drinks all throughout the day. The revolving menus have been designed for after very hard swims or simple laze outs in the sun. Service is available from 10:30 a.m. till sunset.
Aahaata: This theme restaurant would transport you to the leisurely lifestyle of a typical Indian Village, with authentic Indian Bar-Be-Que's, mouth watering Kebabs, and exquisite Indian cuisine.This rustic restaurant with its mud floors and thatched roof is perfect for an alfresco experience, as it is only opened for dinners.
Meetings & Events:
Whispering Palms inspired by nature and enhanced by modern technology offers perfect location to hold a group event, business meeting, conference, or banquet.
Capable of catering for groups as small as 5 or as many as 200, their scenic oceanfront locations, exceptionally talented staff and first-rate facilities offer the perfect setting for your group events or special occasions.
Find inspiration in their 1,500-square meter conference room or additional board rooms, they host your event – large or small – with the latest audiovisual equipment. Wi-Fi is available from the lobby lounge through the meeting areas to the gardens and the beach.
Features :
Audio Visual Equipment
Meeting and Event Facilities
Pre-Function Space
Convention Services Staff
Video Conferencing Services
High Speed Internet Access in All Meeting/Event Facilities (on changeable basis)
Meeting and Event Facilities with Natural Lighting
Note: Some of the services and facilities above may not be available on a 24-hour basis or without advance request. Fees on certain facilities/services may apply.
Ayurvedic Treatments: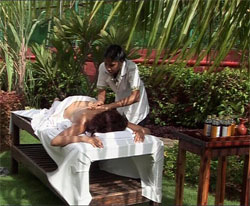 Ayurveda Massage Spa of Infinite Serenity:
"The Spa" at Whispering Palms is a wellness spa offering holistic treatments and a blend of unique therapies inspired by Ayurveda and Yogic traditions, and designed to restore, refresh and revitalize your body and soul.
Drawing on ancient methods from Kerala, this form of massage is one of the best therapeutic techniques in the art of body treatment and offers personalized programmers that promote wellness, detoxification and serenity.
Vata Anti Ageing Treatment Massage:
In this treatment, firm rhythmic strokes are used to nourish and soothe the mind, while the specific aroma- herbal oils balances body, mind and character. This traditional massage helps to induce sleep and nourishes the cells. It is highly recommended as an anti-ageing remedy promoting growth and stability.
Synchronized Massage:
The famed "Four Hands Massage", a traditional form of massage performed by two therapists with synchronised and rhythmic movements, invigorates and warms the body and mind using brisk, long strokes.

Pitta Relaxation Treatment Massage:
Firm manipulation of the deeper tissues helps recovery from fatigue and improves circulation. This deep tissue technique is highly recommended for muscle relaxation, with deep rhythmic movements.

Kalpa Freedom Treatment Massage:
Energies and revitalize with this unique back and scalp therapy. The therapy begins with the application of warm herbal oil, and is followed by a deeply stimulating back and neck massage to promote a sense of well-being. The pressure point massage revitalizes the scalp to prevent hair loss and premature greying.
Other Massages:
Besides these they have the traditional Foot Massage and a host of other therapies under the guidance of experts specialized in rendering these massages
Accommodation :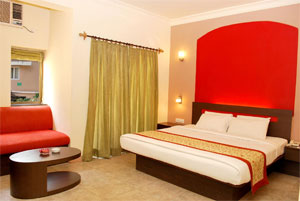 The Whispering Palms Beach Resort, North Goa has 106 rooms that blend Goan decor with contemporary facilities. You will be spoilt for choice between the Luxurious Whispering Classic Designer Rooms, the Spacious Deluxe Rooms, and the Mediterranean styled Standard Rooms. The rooms are all surrounded by landscaped gardens and pool views. Newest Extra-Luxury Rooms. The exquisitely designed rooms ensure that you are in the lap of luxury; a luxury defined by privacy sprawling lawns and large balconies. Most of the room have a view of the Arabian Sea. Each of the rooms offers state-of-the-art appliances, well appointed furnishings and interiors, offering their guests an exceptional holiday experience.

Spacious & Pool Adjacent
The uniquely designed spacious deluxe rooms with Queen sized beds subtle interiors and surrounded by greenery ensure that each moment of your stay is memorable.
Pool Adjacent with Balcony
elegantly appointed rooms with modern amenities having both twin and double beds. Discover yourself and revel in the comfort of the subtle Mediterranean styled rooms.
Each of the rooms offer Mediterranean designed accommodation and modern facilities, with well appointed furnishings and of course, a service that pampers you all through your stay.
Room Amenities:
• Air Conditioning
• Tea/coffee maker - in Whispering Classic and Deluxe Rooms
• Crib – On Request
• Hair Dryers
• Electrical adaptors
• Mini Bar
• WI FI Internet access in all rooms
• Attached bath tubs (deluxe rooms) and modern rain showers (classic rooms) with hot and cold water in all rooms
• Flat screen TV
• Private balconies in most rooms
• DVD Player and Movies on Request
• Room Entertainment
• Cable Television with International Channels
• DVD Player and Movies on Request